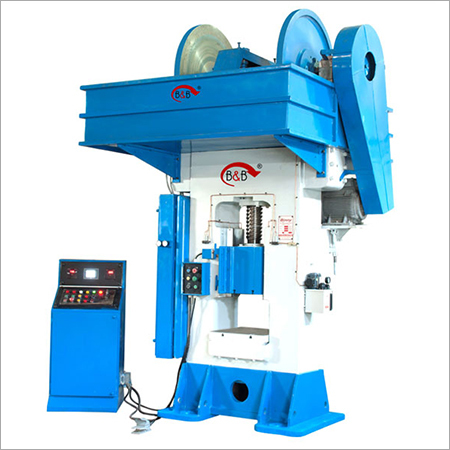 Friction Screw Presses (Pneumatic)
Product Description
With having 30 tons to 500 tons of down stroke capacity, this Pneumatic Friction Screw Press is acknowledged for its precise forming method under exceptional speed. This machine is also used for warm and hot forging of different components that include:
Fastener, forged gear bolt
Forged and straightening components made of aluminum, brass, steel of different grades and copper
Forged gear bolt
Medical instruments, cutlery items agricultural tools and manual tools
Sports accessories, golf iron
Forged accessories of vehicles like bicycle and motorcycle
Valve and other spare accessories of electronic equipment, water supplying system, propane and LPG cylinder
Magnesium made materials required for forging and refining jobs

This finest quality stainless steel made machine is attached to electrical oil pump. This noise free equipment is designed with nickel bronze made nut and EN 24 grade alloy steel screw. Simple to install, this equipment consists of advanced roller bearing. Best grade leather has been used to design this system. Reliable operation and application specific design are some of its main features.
Technical Details

Down Stroke Capacity 30 to 500 Tons
High speed forming can be performed
Hot and warm forging to prevent temperature reducing
Forged Gear Bolt, Fastener
Other Steel, Copper, Brass Aluminum, Forged Parts or the Straightening
Cutlery, Medical Equipment, Hand Tool, Agricultural Tool
Golf Iron, Leisure Equipment
Magnesium raw material refine and forging
Forged parts for the Motorcycle, Bicycle & Automobiles
Valve and parts for L.P.G. & Propane Gas, Water Supply & Electric Equipment
Fitted with Electrical Oil Pump
Graded Steel Body
Screw made of Alloy Steel EN 24 & Nickel Bronze Nut
Quality Leather Used
Trouble Free Performance
Special Design
Silent Design
Fitted with Roller Bearing
Easy to Set
Contact Us
Plot No. 2467/2A, Street No. 4, S.B.S Colony, Sherpur, Near Swaran Palace, Ludhiana, Punjab, 141010, India
Phone :+918037303923