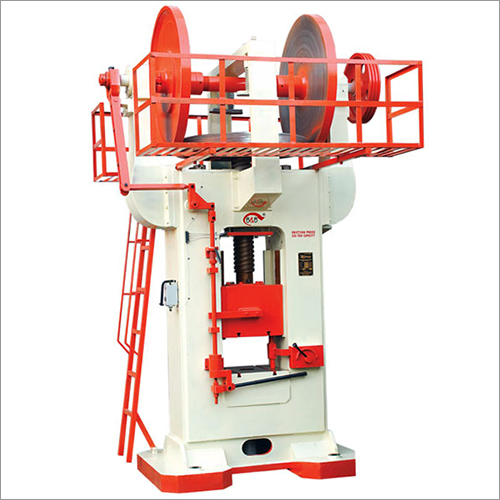 Friction Screw Press Down Stroke (Steel Fabricated) 30 to 500 Tons
Product Description
Friction Screw Press Down Stroke (Steel Fabricated) 30 to 500 Tons

Friction Screw Press Down Stroke (Steel Fabricated) 30 to 500 Tons is one of the popular machine which is widely used in product manufacturing industries for the production of various types of components such as crankshafts, axles, connecting rods, transverse links, surgical instruments, turbine components, fittings, flanges and cutlery. Friction Screw Press Down Stroke (Steel Fabricated) 30 to 500 Tons offered by us are designed as per the industrial standards by using modern production methods and materials which gives enough strength to withstand extreme compressive impacts generated during the working of the machine.
Friction Screw Press Down Stroke is manufactured using high grade stainless steel material which provides it a highly durable service life. Its screws are made up of alloy steel to enhance suitable flexibility and adaptability. Its latest modular designing and techniques allows easy installation. Friction Screw Press Down Stroke saves a lot of human time and efforts by performing quick operations. Its roller bearing phosphorus bronze nut make its fitting more convenient and reliable. This product is highly durable and corrosion resistant.
This Friction Screw Press Down Stroke has been developed from best grade steel. It consists of EN 24 grade high strength alloy steel screw, tie rod for strengthening its structure and phosphorous bronze made roller bearing. This machine is reckoned for its smooth operation, noise free functioning, fatigue proof structure and simple installation technique. Finest quality leather has been used to design this ergonomic machine.

This equipment has been meticulously designed to produce rivets, forged parts, hub bolt, pan headed rivets, spikes, bolt head, machine components, automobile spare accessories and box spanner of different specifications. This machine is also suitable for producing naushadar bricks and head refractory.

Main structure of this machine is made of high strength steel or cast iron and this structure is strengthened by using multiple ribs. Central shaft of this machine is equipped with pulleys and it rotates on its roller bearings. These bearings are attached to the cast iron made pedestals. These pedestals are connected with the main structure via bolts. Cast iron fabricated movable parts have been fitted between the pedestals by using nut and key equipped threaded screw. This screw is installed on mild steel made slide of this machine. Easy to replace cast iron strips slide and guideways of this machine are equipped with ram. A counterweight is used to maintain balance between ram and slide for steady operation of this machine. Phosphorous bronze made insert part has been installed to the bottom of the screw for trouble free transportation of block set.
Contact Us
Plot No. 2467/2A, Street No. 4, S.B.S Colony, Sherpur, Near Swaran Palace, Ludhiana, Punjab, 141010, India
Phone :+918037303923